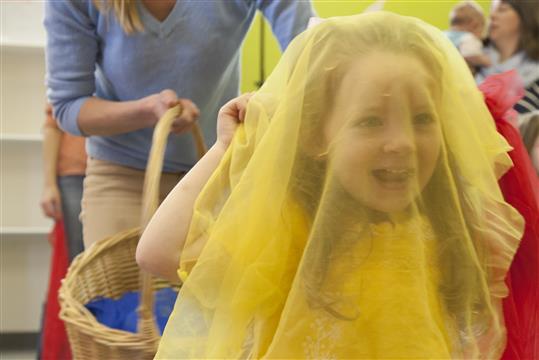 What is Musikgarten?
Musikgarten is the leader in early childhood music education. We offer a complete multi-year educational program starting at birth that helps children develop a deep love of music and the ability to express it. Musikgarten's unique, carefully designed curriculum includes home materials to reinforce learning and development every day of the week and involve the whole family in the fun!
Did you know?
Did you know Musikgarten has a rich history and amazing roots? Our founder, Dr. Lorna Heyge (who also founded Kindermusik in 1974) created Musikgarten in 1994 with Audrey Sillick. Together, they wrote curriculum that reflected their combined education, experience, and the latest research in childhood development.
Check out our rich history here.
What makes Musikgarten unique?
"Come for the fun, stay for the education." Musikgarten's sequential curriculum for birth to age 10 allows students to learn music in a fun, developmentally appropriate manner. We focus first on training the child's brain to hear, identify and create patterns in music, so that by ages 5, children are starting to read musical notation. Musikgarten's Piano Partner curriculum for ages 5-7 is rich in combining our fun off-bench group activities with the practical application of playing and creating music at the piano.
All Musikgarten instruction is carefully designed around Edwin Gordon's Music Learning Theory, which focuses on how the brain learns and how movement is so vital to music learning. Musikgarten teachers receive intense training and testing to ensure your child receives the BEST music education experience possible. The best part? Musikgarten classes are FUN! and children leave with a sense of belonging, joy, confidence, and love for music!
~
"A rich voice opens the ear and gives energy to the nervous system. Not only does it help children process and memorize the message, but it also increases their desire to listen more, learn more, and know more. A good voice fills the cognitive and emotional brain." -Paul Madaule, Founder and Director, The Listening Centre
~
"Speech and music have a number of shared processing systems. Musical experiences which enhance processing can therefore impact on the perception of language which in turn impacts on learning to read." -Susan Hallam, Institute of Education, University of London
~
Noted author and neuroscience educator Jane Healy speaks about children whose parents have chosen more "academic" pursuits for their children: "Studies show that 4-, 5-, and 6-year-olds in heavily "academic" classes tend to become less creative and more anxious - without gaining significant advantages over their peers." -Jane M. Healy, Your Child's Growing Mind
~
And, if everything else were not convincing enough... A 2007 poll found that 88% of all post-graduate students in college and 83% of all people earning $150,000 or more had extensive music training. - Poll, November 14, 2007, Reuters, Ltd.
Additional Information/Links:
The Benefits of Music and Movement
NPR Article: The Surprising Benefit of Mooving and Grooving With Your Kid